"Norfolk County, Ontario's Garden, is steeped in agricultural tradition. Since 1949, Brimage Law Group has evolved and grown along with our farms."
Recognition
Like most of our areas of practice, Agriculture Law is not mutually exclusive, and often crosses over to areas such as Business Law. However, our mandate to maintain agriculture as a separate practice speaks to Brimage Law Group's desire to recognize the industry as a major contributor to our global community.
Growth
Brimage Law Group is closely tied to Norfolk County's agricultural community. Several of our lawyers grew up on family farms that continue to thrive here today. Agriculture and agribusiness is our community's backbone, and we recognize the need to assist and lead the industry.
Dedication
Brimage Law Group is proud to have one of our partners author "Agriculture Law In Canada." As farmers continue to diversify and evolve alongside the agribusiness sector as a whole, introducing new practices such as wind and solar green energy initiatives and FIT (Feed-in Tariff) programs, we are dedicated to meeting the industry's legal needs now and for years to come.
The best place for farms to turn for legal help is the law firm with deep agricultural roots.
Contact Brimage Today
Did we mention one of our lawyers wrote the book on Agriculture Law?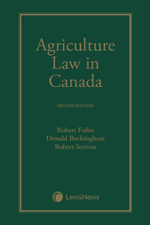 Our own Robert Fuller is lead author of Agriculture Law in Canada–the only authoritative text on this critical industry. Now in it's second edition, Agriculture Law in Canada offers comprehensive coverage of the legal issues facing the ever-evolving farming industry including: Farm Ownership (purchase and sale, leasing), Public Control of Farm Land, Farm Operations, Farm Financing, Employment Law, Liability on the Farm, Farm Succession & Estate Planning, Regulating Production & Sales of Agricultural Products, Taxation of Farming and more. This go-to resource has proven invaluable to anyone working in the agriculture and agri-food industry in Canada, including farmers, lenders, accountants and particularly legal professionals.